Great Plants for Difficult Climates
Performance and Beauty Go Hand-in-Hand
---
TNT means 'Top Northern Tier'.  In recent years we have begun a process of selecting the best plants we own and marking them with the 'TNT' designation.  We grow many beautiful plants in our gardens, of these, a number of them have that 'certain something' that sets them apart from the others.  Plants not marked with the TNT designation have met many of our northern tier requirements, but may not have everything we look for or have not been in our collection long enough for total evaluation.  However, almost all the plants we grow are hardy, beautiful and suitable for northern gardens.  We've discontinued listing the 'TNT' plants here, but they can be found throughout Solaris Farms' website, so you'll know the plants we believe have it all.   Within our online catalogs each plant that meets all of our selection criteria are marked with TNT.  Please see our web catalogs for prices and availability.
Daylilies (Hemerocallis) marked TNT must have shown good resistance to adverse climate conditions, which includes low/high temperatures, water in the environment (or lack of) and freeze thaw conditions.  Flowers must be relatively consistent throughout the bloom season and bud counts need to be better than average.  Good looking foliage and growth habits are also expected.  We want our plants to look good without the assistance of specialized conditions.  The plants need to look good in a clump, be showy in a garden setting and prosper over a long period without division.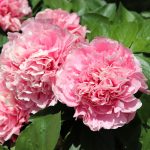 Peonies (Paeonia) marked with TNT must show good resistance to disease and exhibit reasonable growth rates.  Flowers should be consistent from year to year and present themselves so the viewer does not need to 'work' to view them.  Strong stems with good looking leaves is an integral part of the evaluation process for peonies.  Since peonies grow a bit more slowly than most plants, they usually take 3 to 5 years after transplant to show their true abilities in our gardens.  Many peonies have beautiful flowers, but those with consistent bloom and worthy plant habits are those that get selected.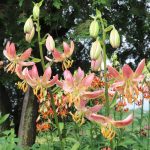 Lilies (Lilium) are a diverse group of plants that show a wide range of growing requirements. Disease can be an issue as well as plant hardiness.   Winter hardiness is important, as with all plants and those that perform well in open field situations are considered for TNT status.  Stems need to be thick and strong, which can support the sometimes heavy flowers.   Growth rate and ability to stay planted in a single site without division of clumps is also an important factor with Lilium.  Some Lilium grow rapidly and the bulbs pile up on each other, competing for space, and ultimately requiring constant dividing.  Those that grow into large clumps and bloom without special attention are more likely to be selected as TNT plants. Unfortunately, Oriental lilies do not meet hardiness and disease resistance criteria in Wisconsin and have not proven to be longtime garden residents.
We know that some plants will perform better in others' gardens, but our aim is to make note of plants that will likely be good performers in most gardens, considering the wide variability in soils, climate and care given to them.