Solaris Farms Operations Manager – Jordan Kabat
April 8, 2020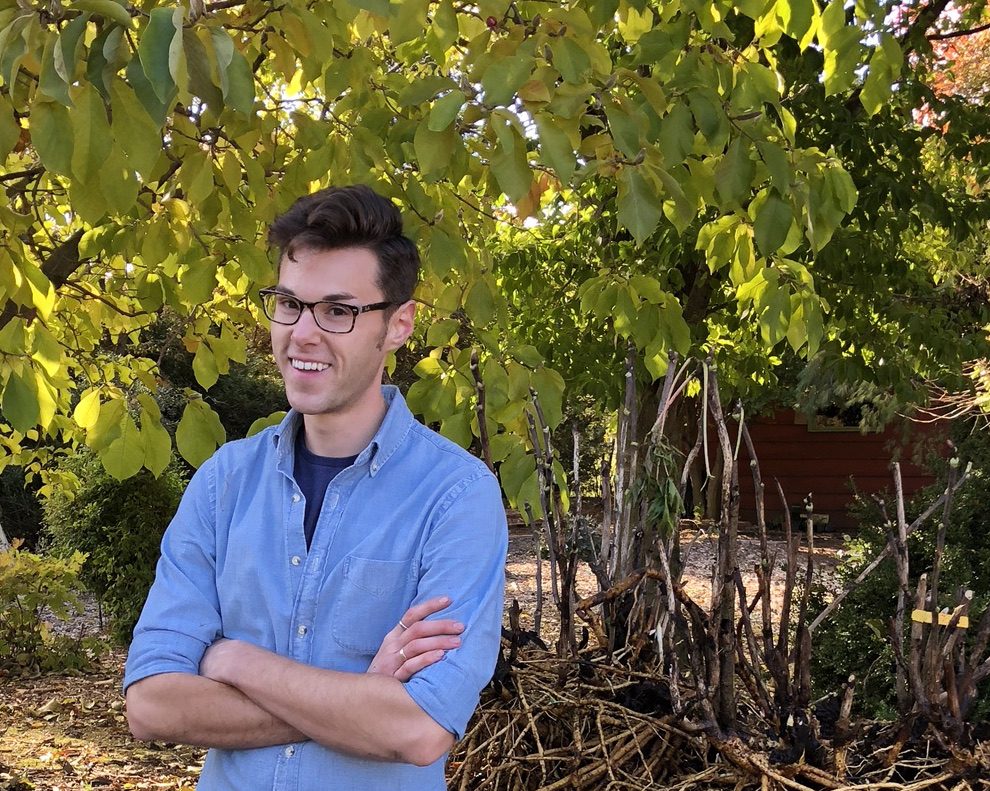 There is often an assumption that people go into an area of business that reflects their education, their upbringing, a hobby or life-long interest. I suppose one could argue that my angle on the plant world was the hobby option from this list, but I never saw myself in the role I have now taken on, nor the trajectory of my life following the direction I now find it heading. I have had many people tell me that this is often the case, but I can't say how common it is for someone to turn from one inherent passion to another after prolonged dedication to the former in favor of the latter. For nearly a decade I pursued higher education in music, and saw myself teaching music theory or history at a university or conservatory while writing on the side. I have a Master's degree in composition from the Boston Conservatory, and up until very recently, I was contemplating moving forward with a PhD program. I was born in small-town Wisconsin, and I still get the "you're not from around here" looks and questions from people… but something, well, many things really, called me back here after I graduated. These included my wife Kate, the ties to my late mother who passed away in 2015, my childhood home, my family, and just as important as almost any of these – the opportunities to be outside, in nature, with plants and trees, the sunshine, and clean air that are hard to find in the big city. I knew in my heart that a life in Boston was not for me, as much as I want to be connected with people, music, culture and art, it was just as – or maybe more so – important for me to feel a connection with the earth.
I think that a lot of people who get involved with plants are asked what got them interested in whatever genus or species with which they develop a fondness or fascination. The simple answer I give is that my mother-in-law introduced me to peonies and daylilies. The more complicated answer, though, follows an indirect path. I think my particular interests are largely circumstantial, as there were enough people around me who were growers and collectors of peonies and daylilies when my preoccupation with gardening took off. I have been growing plants throughout my life, though. I was raised on a diary farm where I kept a vegetable garden with the help of my parents from the time I was four years old. When I was ten, my parents divorced and my mother and I moved into a small house in the city. Having a large garden was no longer possible, but I still helped her in our modest yard. She kept flower beds around our home and planted an assortment of annuals among just a few perennials. She had some iris – an unfortunate brown and purple cultivar that came along with the house we lived in, a single purple daylily (Grape Velvet), and a few hybrid tea roses that she maintained with surprising ease in our Wisconsin climate (I think it was their protected position and southern exposure). Over the years, we added hydrangeas, asters, and several varieties of perennial sunflower to the mix, and I always enjoyed working outside with her, though it was never something I considered to be a hobby of my own. My mother passed away due to complications that arose from a bone marrow transplant while I was living in Boston. I stayed in Wisconsin that summer, and I subsequently threw myself into gardening as a coping mechanism. By the following year I had turned over nearly every inch of grass in our yard to make room for flowers. It was a way for me to feel closer to her, and to distract myself from the reality of losing her. I planted more roses, but didn't have the same success as she did. As I looked for other things to plant, I consulted with my mother-in-law, Kris Casey, an avid gardener herself.
Jordan hybridizing on Kris Casey's plant of "Angel Choir", a rockii hybrid woody peony.
Kris had been a friend of Bill Seidl for many years before that, and had amassed an enormous collection of peonies and daylilies, as well as a wide array of other plants and specimen trees. Naturally, I sought out many of the same plants that she had. Kris and her kids (my wife, Kate, is her oldest) also worked at Solaris in the summers digging daylilies, and she helped me connect with Nate when I wanted to acquire more plants and learn more about them. I suppose one can imagine things progressed from there and here we are… The first summer I worked at Solaris, I dug out a lot of daylilies, then the next year I helped with digging peonies and Nate taught me how to graft. I was hooked. I kept up working with him in the summers thereafter, and eventually I acquired enough plants to stuff my small yard completely full. In 2016 Bill Seidl passed away, and the acre garden that he maintained and upon which he hybridized all of his well-known peonies, changed hands and came under the ownership of Kris. She allowed me to plant whatever I wanted there in exchange for taking care of the property (mostly aiding in the avoidance of noxious weed fines), and this now has become my main garden. Figuring out what was growing in Bill's garden was an undertaking for me, and it helped me learn about a wide variety of trees, shrubs, and other plants that I would have otherwise never come into contact with. I inherently gravitate toward the strange and unusual, and it seems that Bill did, too – lots of bizarrely shaped weeping trees and conifers live there, oddly grafted magnolias, and other rare specimens were all present to pique my interest. I love metasequoia, and Bill has one growing there, a tree that was originally taken as a cutting from a parent that lives in Harvard's Arnold Arboretum in Boston – I went to visit that parent tree when I still lived there. I like other odd plants, too, and the stranger it seems, the better. I love cacti of all shapes and sizes, and I like fungus, too, with the amazing spectrum of forms, colors, and habits that are present within that kingdom.
For the plant people reading, I thought you might get a good feel for my personality if I gave you a rundown of a few of my favorite plants – I think you can tell a lot about a person by what they gravitate toward. Here they are:
Metasequoia glostroboides
I love these trees. They may be my favorite plant above all others. Their height and how quickly they grow are both attractive characteristics, and these are in addition to the soft bark and fine needle-like leaves (they aren't really needles like what you would find on a pine  – more like soft, thin fern leaves). The tree feels light and airy, yet stalwart. The fact that these trees were thought to be extinct, and a widespread population was restored after a single tree was happened upon by Western scientists exploring China in the 40's is… I have no other words, this is just so cool.  After seeing some of the trees that were first brought back and grown in the United States, I was in awe – a feeling that was only amplified when I saw one turn a blazing bronze-red color in autumn.
Ginkgo biloba
The gingko is likely my second favorite tree, primarily because of the unique form of the foliage. Another "living fossil", I was first drawn to the gingko for this reason, and then maintained interest after learning of the many different species that once existed on earth but have long been extinct. The number of different spoon-shaped leaves that once existed on this planet is rather astonishing if you can get your hands on a textbook that lays them all out for you. Recently, I was very much taken with a bonsai gingko that I came across at the Greater Des Moines Botanical Garden during the 2019 American Peony Society Convention. I've included a photo of it in the gallery for you… really a neat little specimen. Bill grew several full-sized trees in his garden, and I am now lucky enough to be the caretaker of them – one of them being a female tree that grows fruit every year. He planted it near the compost pile because the fruit smells so bad.
Paeonia tenuifolia
I may have spoken too soon with the metasequoia… this is without a doubt my favorite plant. Not only is it a peony, but it has my favorite soft, needle or fern-like foliage and it's a cute little thing that you can fit in almost anywhere in your garden. That's another quality that I appreciate in plants, perhaps because I had limited space for so many years, and I wanted to be able to cram into my garden as much as I could! The fact that there are several colors extant of this species is appealing, too, not least because those colors are rather difficult to come by in commerce next to the fairly common reds, rubra and flora plena rubra.
Paeonia potaninii var. trollioides
Yet another oddball little plant, but this time a tree peony. The vigor this species shows when established, and the sort of spreading blanket it creates is such an interesting growth habit, and the little, yellow buttercup-like flowers are endearing. With it being rarely grown, it is also an infrequently utilized hybridizing subject in tree peony breeding, making it all the more alluring as a garden subject.
Hybrid Peony "Tranquil Dove"
This Saunders hybrid with its pink picotee petal edges over white ruffled/wavy-edged petals held on short but sturdy stems is distinct, and captivated me when I first encountered it. The upward facing flowers almost look like tea saucers, and, with it being another rather small-statured plant, it was perfect for my taste. People often ask me what it is that I like most about growing peonies. I think Nate would tell you that he likes grafting tree peonies the best. Fortunately for him, the thing I like most is to dig them up – one reason being the sweet and spicy smell of their roots… and was I ever surprised when I dug this one up to find the roots not only smelled great, but had a beautiful purple color inside. Truly, Tranquil Dove is a peony that is beautiful in every regard, both inside and out.
Hemerocallis "Rock Solid", and "Something in My Teeth"
These two daylilies are without a doubt the ones I look forward to seeing every July. Rock Solid, though an older cultivar, has stood the test of time in my opinion. Its scapes are a nice height at about two and a half feet, and my plant always seems to be covered in flowers. Peach colored flowers with a contrasting plum-colored eye-zone and wavy edge make for an eye catching display in the garden. I think the color combination is what does it for me. Something in My Teeth, though, is really something else. I don't tout it just because it's one of Nate's hybrids – it really is one of the best in my opinion, and I think that says a lot because I don't generally like orange daylilies. This plant is awesome in that it is vigorous, and highly floriferous, making for an impressive display since the flowers are stunning in their own right. Gold-dusted orange-yellow hombre with as many teeth as a great white… need I say more?
Echinocactus grusonii (golden barrel cactus)
I like cactus of all shapes and sizes, but something about this one is beguiling. The barrel cactus is fairly easy to grow, and faster growing than many other wild cacti in cultivation – a mature specimen can be achieved within thirty years time. The barrel cactus photo I've included in this gallery was the one that first got me interested in them – I encountered it at the Yale greenhouses while visiting my best friend Zach in New Haven, CT. It was growing among a host of other cacti in an arid room, and its round form and golden spines were very appealing amid the other cacti… so much so that I now have a few of my own growing indoors at home.