Solaris Farms
Overview of  Our Business Life at the Farm
---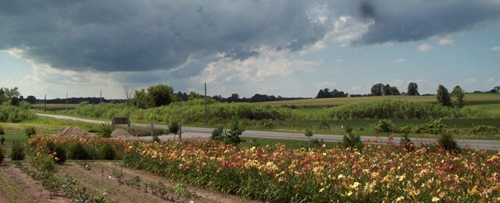 Welcome to Solaris Farms, a family-owned nursery, offering Hemerocallis (daylilies), Paeonia (peonies) and Lilium (true lilies).  We grow our plants onsite (not resellers), allowing us to amass much information about durability and performance for northern gardeners. Our mission is to provide excellent northern tier plant material and at the same time provide education.   Visit our culture and and care web pages for no nonsense growing information.
During our open houses visitors are welcome to look through seedling fields, hybridizing areas and display gardens to get an idea of things to come (dreams).
Set in a century-old Wisconsin farmstead, Solaris Farms specializes in hardy, field grown daylilies, peonies and lilies.  All cultivated to withstand the climatic rigors of the upper Midwest. Here, we present  thousands of daylily, peony and lily cultivars, from exciting new introductions to classic favorites.  Many of our plants are of our own origination and our mission in hybridizing is…better plant, better stems/foliage and better flowers in that order!  Solaris Farms is located in an area of harsh winter climate that experiences greater than normal freeze-thaw cycles, icing and exposure.  With these factors in mind, Solaris Farms is working on programs involving clear vibrant colors and superior northern plant habits.  If you are tired of plants that do not perform or even survive in the north, give us a try–we guarantee your 'hardy' satisfaction!   Great garden plants must not only survive, but be productive as plants!   Our plants do not require special winter attention and have been tested without mulching or extra care.  The farm is a State of Wisconsin registered and inspected nursery and an official American Hemerocallis Society Display Garden.
Nate and Kim run the operation with the help of a cast of other characters during the growing season.  The farm was once a dairy operation and the old buildings and structures that were a part of that business still stand.  Historical maps show a Native American burial site on the northwestern edge of the property and finding an occasional projectile point is quite possible.  Our brick home is the second residence built on the property and was erected circa 1916.  The first farm house is long since gone and was located at the top of our little hill where a display/trial garden now grows some of our futures.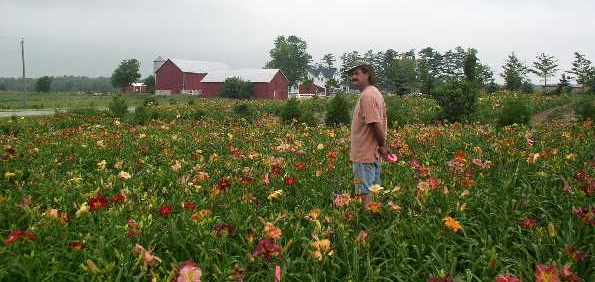 Nate is a retired science teacher with a background in conservation and plant science.  The business is a labor of love, rather than one of monetary desire.  Nate, in all likelihood, will dig and label your  mail order.  He has hybridized orchids in the past and now enjoys the many aspects of plant propagation.  Nate also does the daylily and peony hybridizing at Solaris Farms.  Kimberly works as a free-lance marketing specialist throughout the area and enjoys visiting, digging, and assisting customers when time permits. Our kids, Ethan and Emma, have now moved on to their adult lives and are no longer working at the farm.
The business ships plants throughout the summer and fall months (July for daylilies and late September to mid October for Peonies and Lilies); and operates an ever growing on-site sales operation available to visitors during open houses.  Please see our Visit the Farm-Open Houses page scheduled events.
Solaris Farms sells bare root Hemerocallis (daylilies) and Lilium (true lilies) during the summer open house events, which are freshly dug for later pickup or shipping.  Customers are welcome to wander the rows in the fields while visiting to view the Hemerocallis and Lilium they may want to purchase.  The plants are Wisconsin field tested to ensure hardiness in our area and others of like climate.  Typically, our climate is more severe than almost all of the other mid west states due to winter surface water fluctuations and the large number of days that experience freeze-thaw cycles.  Our area, more often than not, lacks snow cover during early winter and spring and this really tests the durability of plants in Solaris' fields.  With this in mind, northern gardeners will be most pleased with the product we sell–wonderful hardy plants!
Peonies are also available

and have become part of our specialty.  Solaris Farms grows many unique and difficult to find peonies, including: species, woody peonies (tree peonies) and advanced generation herbaceous hybrids. We do not sell containerized peony plants, thus all plants are dug for bare root sale,  only in the fall of the year.   Most customers choose to purchase peonies well ahead of time and arrange delivery by mail order or pick-up at the farm.
Solaris Farms invites you to visit on-line or in person and we look forward to cultivating friendships with other avid gardeners…and encourage you to share with us this spirit-nourishing (and sometimes addictive) pleasure.