Recommended Books and Literature
Proven Information in a World of Opinion
---

Growing Guides and Articles.  Solaris Farms has authored a number of growing guides and articles.  These guides and articles are focused on the plants we grow in our Wisconsin climate and may be of value to northern tier gardeners.  All Guides and Articles are for personal use and reproduction is prohibited without permission of the author-Nate Bremer.
---
Peony Books.  We no longer carry literature for sale concerning peonies, but recommend the following.  A good selection of books can be ordered through the American Peony Society at very reasonable prices.  To purchase these books go to The American Peony Society-Publications.  There are number of other outstanding books through the APS, that I do not have listed here.  These are listed for sale at the above URL.  A good selection of peony related literature can also be purchased using Amazon.com.

The Peonies.  John Wister.  This is an old book with black and white pictures and probably lacks appeal for the average gardener.   However, it is the most comprehensive and accurate book for people interested in growing techniques, propagation and historical information.  Original publication under auspices of the American Horticultural Society, reprinted by APS. Edited by John C. Wister, considered the dean of American ornamentals horticulturists, long time horticulturist for Swarthmore College's Scott Arboretum and who was also instrumental in formation of the American Daffodil Society and American Iris Society. A treasury of peony information and worthy of being on the shelves of all peony enthusiasts. Hardcover, 2nd printing, 225 pgs.  Use the following link to purchase this book:  The Peonies.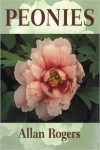 Peonies.  Allan Rogers.  A more recent publication has many color images and wide scope of information concerning the genus.  It is a good resource for the general gardener and prospective buyer.  Like all publications, it is dated and many new peony cultivars are emerging on the market.  Thus visiting the American Peony Society website for more up-to-date information is recommended when shopping.  This book can be purchased through your local book store or Amazon.com.

Peony.  The Best Varieties for Your Garden.  Carol Adelman & David Michener.  A new book that is loaded with great images of some of the best peonies for gardeners.  Excellent descriptions and covers a wide range of peony cultivars.  Carol and her family are owners of a large peony farm and has acquired a wealth of experience with outstanding peonies.  David is works at a university and is responsible for many peony related scientific projects.  Both Carol and David are currently serving on the American Peony Society's board of directors. Excellent book.  Available on Amazon.
---
Daylily Books.  We no longer carry literature for sale concerning daylilies, but recommend the following.  There are many fine daylily books and information on this genus abounds.  We recommend the following book which can be purchased through the American Daylily Society.  The AHS also sells many other publications dealing with this wonderful group of plants.  Please visit their website at the above link to see more.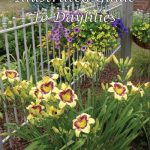 The Illustrated Guide to Daylilies.  Editor, Oliver Billingslea.  Included in the Revised Edition are 10 new photographs, replacing dated material in the earlier edition.  Newly included are photos of the 2014, 2015, and 2016 winners of the Stout Medal.  All of the Lenington All-American winners from the first winner in 1970 through the winner in 2015 are pictured.  In the chapter on "Companion Plants," many Perennial Plants of the Year are included.  New to this edition are the 2015 and 2016 winners.  The chapters on "Photographing Daylilies" and "Registration Procedures" include new photos, among which are the 2016 AHS Photography Awards for Single Bloom, Multi-bloom, and Landscape, and new illustration for a daylily to be pictured on the AHS Website after the Checklist is finalized.  Good cultural information is also included.  Reasonably priced.  Use the following link to purchase this book:  Illustrated Guide to Daylilies.
---
Lily (Lilium) Books.  We no longer carry literature for sale concerning lilies, but recommend the following.  The North American Lily Society-Other Publications is the best source of accurate and appealing lily publications.  We recommend two books, but there are others that are more focused on lily related topics.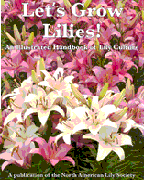 Let's Grow Lilies. Virginia Howie. A 48 page illustrated handbook of lily culture, covering virtually everything you need to know about growing lilies. A great book for the beginner and the more experienced grower alike. Updated 2011 edition, with new full color cover.
Please note that a copy of this book is included with a new NALS Membership.
Use the following link to purchase this book:  Let's Grow Lilies.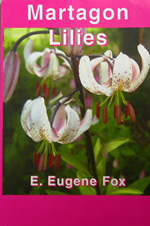 Martagon Lilies.  Eugene Fox.  This superb 182 page book is the result of decades of growing, hybridizing and researching martagon lilies, and is the most complete reference on martagons available. It provides in-depth coverage of martagon species and hybrids, growing, hybridizing, diseases and pests, and showing. It has numerous maps and line drawings, in addition to the excellent color photos. It is a must book for all lily growers.  Use the following link to purchase this book:  Martagon Lilies.